Newport Camogie 1962
---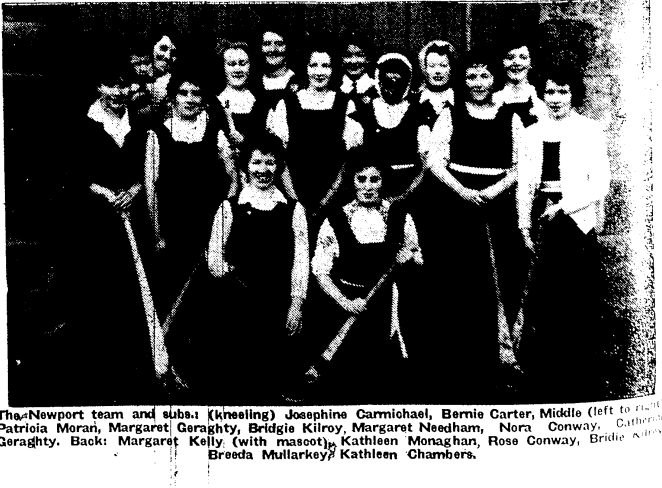 ---
May 5th 1962 Mayo News
Camogie
Newport win well
Newport 5-1, Castlebar 1-0
In a first round Mayo Camogie championship tie at Newport, on Sunday, the homeside had an easy victory over a Castlebar Bacon factory side, which was backboned by Manulla players. Having her first game for some time with the winners was Teresa Hoban, who inspired the side with flashes of her old dash at midfield, while the inclusion of Bridie Kilroy also added strength in this sector.
The winners who led by 3-1 at the interval, had other good players in R. Conway and M. Kelly in defence and B. Kilroy in attack.
For Castlebar Josie Ruane, Vera McDonnell, E. Coughter tried hard.
The Newport scores came from Bridie Kilroy, 3-0; K. Geraghty, 2-0 and T Hoban 0-1. A Guthrie scored for Castlebar.
Newport: M. Geraghty, M. Kelly, R. Conway, N. Conway, M. Needham, K. Monaghan, B. Kilroy, T. Hoban, K. Geraghty, B. Kilroy, J. Carmichael, B.A. Murray.
Castlebar: M. Murphy, J. Ruane, V. McDonnell, B. Feeney, M. Rainsford, J. Delaney, E. Coughter, A. Guthrie, M. McGinty, M. McDonnell, E. Ruane, K. Fadden.
Mr. S. Moran was an impartial referee.

---
May 19th 1962 Mayo News
Change in Licensed premises and boot shop of the late James O Grady, Georges Street, Newport, will be taken over by his nephew, Mr. Dan Hoban , a native of Castlebar. His young wife, formerly Miss Teresa Murray, Newport, is well known in Mayo camogie circles. The present licensee Mrs. Mary O Grady and her two sons are emigrating to the U.S.
---
September 9th 1962 Mayo News
Camogie
Newport Girls had easy win
In a Mayo camogie championship game at Newport, on Sunday, the homeside defeated Achill by 6-0 to nil.
Played under adverse weather conditions the game never reached a high standard and the visitors were on the defensive for most of the game.
J. Carmichael, C. Geraghty, B. Kilroy scored for the winners.
Best for Newport were T. Hoban, B. Kilroy, K. Monaghan, and K. Chambers. For Achill M. Daly, M. Gallagher and M. Corrigan were always prominent.

---
October 27th 1962 Mayo News
Newport Roundabout
Girls Train for Final
If fitness is any criterion then Newport camogie team must start favourites to capture the West Mayo camogie crown when they meet Islandeady in the final at Westport on Sunday. For the past two weeks the girls have been put through their paces on the Quay each night by club mentor Michael Monaghan. Says Michael;There is room for a third cup in Newport this year and the girls are very determined to fill the vacancy.
Form Note : Last Sunday Newport , in a home game, defeated Islandeady by nine goals in a final round.

---
November 3rd 1962 Mayo News
Girls Capture West Crown
Newport 2-1; Islandeady, 1-0
At Westport G.A.A. Park, on Sunday, Newport had to battle every inch of the way against a gallant Islandeady side to capture their first West Mayo Camogie championship.
The game which had few frills attached, seldom reached a high standard when have we seen such a game since the Manulla-Newport finals? but what was lacking in science was more than compensated for by way of thrills and the issue was in doubt until the final whistle.
The Islandeady girls took a six goals slam registered against them by the winners on the previous Sunday with the proverbial grain of salt and showed a marked improvement on that display.
Playing with the aid of a breeze in the first half, they had a jittery Newport defence under pressure in the opening stages, but good approach work went astray.
A tendency by the Newport backs to lift the ball in the square instead of pulling first time nearly cost them vital scores.
At this stage the losers seemed content to rely on defensive methods rather than strengthen the attack. Had they adopted these tactics in the first ten minutes the divisional crown could easily have gone to a different destination. But the winners survived the onslaught and were immediately on the offensive. For the rest of the period they were mounting dangerous attacks and the losers goal had several narrow shaves.
Then came the Newport tonic score, a point from far out on the wing by Bridie Kilroy , which had Ring written all over it.
And the score, the only one in this half, proved later to be a very important one.
On the resumption Newport looked confident of increasing the score but backed by persistent wing backs the losers were determined to hold out. But after eight minutes Newport found the Achilles heel of the tenacious defence and J. Carmichael increased their lead with a goal.
The score seemed to inspire Islandeady to greater efforts. In a do or die effort Kathleen Staunton, who was playing her heart out at full back, switched to the attack.
And following a defensive lapse as a result of a faulty clearance she rattled the back of the Newport goal with a good shot.
With only the minimum score dividing the sides the winners rose to the occasion and credit must go to their stout-hearted defence for not cracking at this vital stage.
From the puck out they came back again in attack and when R. Conway raised the flag from a free the game was as good as over.
From then until the final whistle Newport camped in Islandeady territory and were unlucky not to have increased the margin of victory.
In contrast to their goal feast win on the previous Sunday Newport had many uncertain periods during the game and will want to improve fifty per cent if they are to capture their first county cup probably on November 18 when they will face the North champs.
After a week start full back Kelly hit her usual form and the star of the defence was Rose Conway, who was always at hand when the losers threatened. The wing backs M. Needham and N. Conway while not brilliant were effective. In their centre field trio of K. Monaghan, P. Moran and B. Kilroy, Newport had a trump card. Though pitted against the impressive B. Jennings and the two Fitzgeralds the Newport girls had usually control in this sector and often gave a hand out in defence and attack. On the 40 Kilroy made many openings and gave a consistent display. Most enterprising of the attack was B. Carter who was always menacing the Islandeady defence. J. Carmichael and C. Geraghty were always trying hard. After replacing C. Geraghty in the closing stages B. Mullarkey got into the pattern of play and gave a hand in the attacks.
In goal for Islandeady Maguire turned in some good saves in the first half. K. Staunton had good game at full back but in the second half she showed her ingenuity when moved to attack. If she had played in this position in the first period one wonders what the result might have been.
Most impressive in defence was Mary Staunton who time and again broke up daring Newport raids. B. Jennings did some great work at centre filed while M and A. Feeny were dangerous in attack.

---
November 17th 1962 Mayo News
Camogie Celebrations
Celebrating victories is becoming a habit in Newport. On Sunday the local camogie side brought another cup- the third this year to the town by winning the Co. Championship. On Monday night young and old in the area danced and sang round a huge bonfire to celebrate the victory. Proudly displaying the cup was captain Margaret Kelly.
Music for the occasion was provided by Messrs. Tony Chambers and Martin Maguire.


Victory Dinner Newport, football, handball and camogie clubs are uniting to hold a victory dinner and social in the Travellers Friend Hotel, Castlebar on November 27.

---
November 17th 1962 Mayo News
Newport Girls take Co. Title
Newport 5 0 Doohoma Nil
In a one sided game at Crossmolina on Sunday Newport won their first ever Mayo camogie title when they defeated Doohoma in the final. The game had few highlights and missing were the thrills of some previous finals when Newport and Manulla battled for the deciding score. The only redeeming feature of this final was that it was finished in the current year. The 1960 and 61 finals were only played early this year.
Though weather conditions were ideal for the expected encounter the pitch did not suit the style of the Newport girls who came through the championship without a defeat.
The game was a battle between the winners attack and a stubborn Doohoma defence. Seldom did the ball pass the centre field sector and the fact that Doohoma had not even a wide speaks for itself . Doohoma concentrated all their big guns in the defence where B. Gaughan cleared time and again under pressure. With all the players bunching around this sector Newport found it difficult to get scores and on their own turn over only had a goal to their credit when they should have had the game sealed up at this stage.
A switch in the second half bringing Patricia Moran from centre field to full forward had the desired effect and the game had barely re-started when she gave her side the necessary tonic score. From then on it was one way traffic. In attack for the winners Bridie Kilroy was outstanding and had a picture goal just before the final whistle. Margaret Kelly at full back , who had little to do, ventured up into the attack at nearing the finish to warm herself, as Rose Conway seldom let the ball pass the half back line where she dominated. Kathleen Monaghan, at midfield , was most prominent for the winners and gave her counterpart few opportunities.
Scores for Newport : P. Moran (3 0), B. Carter (1 0), B. Kilroy (1 0)
Miss Vera McDonnell proved to be a capable and impartial referee.
Newport : M. Geraghty, M. Kelly, N. Conway, R. Conway, M. Needham, K. Monaghan, B. Kilroy, P. Moran, C. Geraghty, B. Carter, J. Carmichael, B. Kilroy.
Doohoma: B. Gaughan, B. Keane, D. Heston, B. Goonan, K. Deane, M. McDonagh, B. Mangan, S. Mangan, A. Cusack, E. Cusack, E. Ginty, M. Lavelle.
After the game Mr. P.J. Hennelly presented the cup to Margaret Kelly, captain of the winning side who was carried shoulder high from the pitch and cheered by the large Newport support present.

---
December 8th 1962 Mayo News
Footballers, Handballers, Camogie Players Unite for Pleasant Function
Newport G.A.A. clubs celebrate unique victories
At one of the most entertaining functions for years members and supporters of Burrishoole G.A.A. club, Newport Handball Club and Newport Camogie club attended a dinner and social in the Travellers Friend Hotel, Castlebar, on Tuesday night, last week, to celebrate their unique victories for 1962. And they had every reason to celebrate. To the parish had come the Cusack Cup, the coveted West Mayo Football trophy won by Burrishoole team; the Co. Camogie trophy won by the Newport girls and the Canon Carroll cup won by Peter McGee (and Mickie Walsh, Charlestown), the All-Ireland Junior Softball champions in Handball.
Mr. Michael Walsh acted as M.C.
Proposing a toast to Ireland, Rev. Francis McManamon, Newport home on holidays from the mission fields in Burma, said in proposing the toast, he did so as a substitute for a very great Irishman, Very Rev. Canon Killeen, Newport, who was unable to attend the function.
I think of Ireland in many ways for I have looked at it from here and from abroad said Fr. McManamon. He said he had once been asked by an Englishman to define an Irish farmer. I told him I thought it would be a man who works on a farm in Ireland but this was his definition a man outstanding in his own field. That is quite true. And talking about fields, Ireland has a way-of-life which leads the world, for when I think of Ireland I think of the Irish all over the world, the Irish in many fields
I think of Ireland as a tiny island on the world map, a tiny spot on the edge of Europe but what a wonderful island it is.
Life the human heart pumping blood to all parts of the body
I think of Ireland and its people who have brought our national sport to the four corners of the world.
Why do we push on? Why does the influence of Ireland spread and spread? Every exile that leaves our shore continues the traditions of Irish life no matter where he may go.
It is the Irish heritage to have a love of family, country and God. It is that heritage that has made us known in all parts of the world.
Continuing, Rev. Fr. McManamon said there were some who were very conscious of those things but there were also some who did not propagate them.
But those virtues are there deep down within us, No matter where we are when we are faced with problems it s those virtues that stand by us and guide us.
Continuing he said no country so small was playing such a big part. The Irish were a people whom the world were proud of and the Irish should be very proud of Ireland. We should follow closely in the footsteps of our forefathers in practising those virtues of the Irish but in doing so there was never any need to boast about it.
The Irish abroad were known for their neighbourliness but even in our own homes, in our daily work and especially in our neighbourhood we should be neighbourly.
People are attracted to good. If we speak and do good it affects our neighbour. It does not matter where we do it, It has its good effect. Here at home in Ireland we should practice those good virtues and traditions in our home, in our work and in our play.
Concluding, Rev. Fr. McManamon said it was great honour for him to be present at the function. On his own behalf and on behalf of Very Rev. Canon Killeen, he wished to congratulate the teams on their fine achievements.
If our players of today continue to play in a manly manner and with a spirit of determination in playing the game, next year you will have all the victories you wish for and desire.
He paid tribute to the proprietor and staff of the hotel for the wonderful dinner and service.
Replying to the toast, Rev. M. Comer., C.C., Newport, congratulated the members of the various teams on their achievements. Nothing succeeds like success. We have seen that come true in Newport,said Fr. Comer. The victories of our seniors has had its effects on our juniors.
Speaking of the Newport College team, who have had an unbeaten run in the Colleran Cup games this year, Fr. Comer said it was his privilege to be in charge of the boys and he knew that the victory secured by their senior team in winning the Cusack Cup had been reflected in the minds and bodies of the young players. It gave them courage and ambition to go out and rival teams that had secured trophies in the past.
It was a very good thing to see the youth with such an interest in sport. The late Holy Father, Pope Pius XII, had made special mention of sport and its beneficial effect on the mind and body. Sport helps us to have a pure mind and body.
The manly aspect of sport should be emphasised more for it developed human relationship between people.
On the field players should shake hands with one another after the game and at all times the referee and officials should be respected. Then win or lose the sport has been played in a manly manner.
Concluding he again congratulated the teams on their victories and D.V. the youth to come would rival them in those things.
Proposing the toast to the G.A.A., Mr. Denis Gallagher, Achill, Vice-Chairman of Connacht G.A.A. Council said it was now almost three-quarters of a century since the Gaelic Athletic association had been formed and during that time it had withstood many difficulties and had expanded all over the world. It is hard to believe how any organisation could have spread like the G.A.A.
The parish of Burrishoole in celebrating the victories secured by its G.A.A. teams had every section of the community represented at the function. that tells its own story and testifies to the success of the G.A.A. said Mr. Gallagher.
The G.A.A. had helped our exiles to keep ties with the homeland and it was also found that in every parish, the lad who is active in the game avoids any trouble.
Burrishoole, said Mr. Gallagher, is the neighbouring parish to Achill and on such an occasion he would rather be considered as a neighbour, a Currane man, than a member of the Connacht Council or County Board.
In the early 30s players from Currane assisted the Newport team and in 1934-35, Newport then fit for any team in the county, had Frank Sweeney playing a big part in their victories.
He did not mind saying that his club (Achill) were naturally a bit jealous of Burrishoole on winning the West Championship but he was only glad to share in their victory.
He would say with sincerity that no team got greater pleasure in beating Burrishoole on the field than Achill. Next year he hoped he would be in a position to welcome the members of the Burrishoole team to a similar victory dinner in Achill.
The next speaker was introduced by Mr. Walshe as a man efficient in football, handball, tennis and may other sports and also an expert at the art of conjuring- Rev R. Horan, C.C., Newport, President of the Handball Council of Connacht.
Rev. Fr. Horan said with such a flattering introduction he could not wait to hear himself speaking.
It was great privilege to congratulate the Burrishoole teams on their wins but especially the Newport handballers on their magnificent displays and achievements.
Newports Peter McGee, with Mickie Walsh of Charlestown, had won the Junior All-Ireland Softball Doubles had secured an All-Ireland medal and the Canon Carroll Cup.
It was in 1956 that a similar combination of handballers, Eamon Connolly of Newport and Seamus Fleming of Charlestown were the first to win the Canon Carroll trophy.
Continuing, Rev. Fr. Horan said this years All-Ireland final was one of the finest games ever seen and in it, Peter McGee had played a very manly part.
I would like to have it put on record said Fr. Horan, that Peter McGee is the first Newport born man ever to win an All Ireland handball title in any grade
 The G.A.A. with its various branches: football, hurling, handball, camogie and rounders is the worlds greatest sporting organisation, said Fr. Horan.
He congratulated the football and camogie teams on their great victory in 1962 and on behalf of the Handball Club he wished to congratulate the team officials and trainers and supporters for their wonderful work and help.
Whatever game you play, play it in earnest, play to win, play justly, fairly and honestly, Then it does not matter whether you win lose or draw, for after our final game has been played in this life we will only be asked how we played the game.
The next speaker, Mr. P.J. Hennelly, Chairman of Mayo Camogie Board, said November 11 was a red-letter day in the history of Newport camogie club for in winning the County Championship, the camogie team had completed a chapter in the history of the parish of Burrishoole.
The Newport handballers had secured All-Ireland honours for their club; the footballers had brought home the Cusack Cup and it was left to Margaret Kelly and her camogie to team to complete the job and this she did. It was if the camogie team said to themselves: We cant let the footballers down.
He congratulated all the teams on their fine achievements, for indeed it was a great occasion for the club. He endorsed the remarks of a previous speaker in that the players and supporters should not forget the trainers and officials who made the victories possible. They were the people who should be held in high esteem.
He wished the club every success in the future and said that in 1963 the club may celebrate far greater achievements for the historic parish of Burrishoole.
Mr. Larry McGovern, Mayo G.A.A. Board chairman and a member of Burrishoole club, speaking on Our Parish said they had reason to celebrate on a number of occasions in Newport but never had the parish reached such heights as this year , with victories by the three clubs an achievement never equalled by any parish, big or small, in the county.
However the credit must not all go to the natives of the parish, he said, In the handball club, we have our beloved curate Rev. Fr. Horan, who has been the inspiration of the club and without whose guidance the victories would not have been so impressive. We also have that great player Eamon Connolly who has on numerous occasions brought honour to his adopted parish.
On the football front pride of place must go to Seamus Daly and Sean Meenaghan on the administrative side, while among the players we had men like Jackie Rumley, Brendan Ruttledge, Brendan Donohue, Padraig Connolly, Martin Codd and Jerry McNulty, to whom we owe a lot.
On the camogie side all the players and officials were almost one hundred per cent natives, but the one achievement which I think is greatest of all said Mr. McGovern is that of our secondary school, under the capable guidance of Rev. Fr. M. Comer. From a total of 21 boys they picked a team and three subs and in the first round of the Colleran Cup have defeated the might of St. Geralds College, Castlebar and Ballinrobe C.B.S.
He paid a special tribute to Dr. M. Kennedy, M.O., Newport and Dr. J. Forbes, Mulranny for making themselves available to injured players often at great inconvenience during the year.
Mr. McGovern also thanked the local press for the generous coverage of games and constructive criticism during the year; Mr. P. Jennings, proprietor of the Travellers Friend Hotel, for the excellent meal and also the representatives of the various boards for their attendance.
May the sun never set on the G.A.A. activities of our parish, he concluded. Introduced by the capable M.C. as A first class captain and a first class handballer, Mickie Kelly, captain of the victorious Burrishoole football team , said the function was a very historic one for him. After many years of trying, very hard trying , Burrishoole had at last brought home the Cusack Cup to the place of its origin.
He wished to thank the team members for their fine work and also their trainer and officials. He paid a special tribute to the supporters of the club, without whose help we would not be celebrating victory here tonight said Mr. Kelly.
It was his wish and desire that in 1963 they would be celebrating the winning of the County Championship. Mr. Eamon Connolly, captain of the Newport Handball team said he had had a very happy association with the club for many years, during which he had watched its growth.
The club had made tremendous strides in advancement but it was a club, which had the advantage of a very able committee and two hard-working officials in the persons of Rev. Fr. Horan and the club secretary, Mr. Charlie McGee.
The committee and especially the two officials mentioned, had performed a great service for the Newport Handball Club. There were many meetings and conventions, which they had to attend and there they fought hard in the interests of the players and the game.
These officials were not spotlighted when the victories came to the club, but they were victories, which would not have been achieved unless the officials were there to encourage the players.
Both inside and outside the handball ally, Rev. Fr. Horan had worked very hard for the club and without his efforts victories would not have come to the Newport players.
Continuing Mr. Connolly said he wished to pay a special tribute to the secretary of the club, Mr. Charlie McGee, a secretary whose job was never finished.
Charlie has worked hard for the club and as a result the players have collected the laurels. But there were no laurels for Charlie. To him must go a special tribute.
But it is beyond my reach to pay a deserving enough tribute to him. When victory came for the players there were no bouquets or laurels for him. Now after those many years of hard work, the person who has paid a fitting tribute to his work is his own son Peter, by winning an All-Ireland handball title
Victory, said Mr. Connolly, does not come overnight. Victory is based on hard work by the committee and hard training by the players. You have to lose many times before you can win.
Speaking of the achievement of Peter McGee in securing an All-Ireland handball title, Mr. Connolly said the final at Ballymote was among the best ever seen and so also was the display of Peter McGee. People attending the game said afterwards that it was an outstanding performance, and this was true because he gave a brilliant exhibition of play.
It had been left to him to pay tribute to his father for the work he had done for the club over the years. In congratulating the football team he said he remembered a spectator at the final shout Play the ball. This they had done and secured victory.
To the camogie team a special tribute was due. They had trained hard, doing nothing short of cross-country running. It showed the enthusiasm with which they set out to reach their goal. They decided to make the honours three in a row, and they did so and well.
Concluding, he said when the Caltex Sports Awards were being decided there should be a special award for Burrishoole Parish and its big Three
Miss Margaret Kelly, captain of the Newport Camogie team, said she wished to be associated with the congratulations to the footballers and handballers.
She congratulated the camogie team on their achievement and thanked the officials and trainer and all who helped to keep the camogie flag flying in Newport.
Presentation of Trophies
Handball:
Rev. Fr. Horan, C.C., presented the Canon Carroll Cup and All-Ireland Junior Softball Doubles medal to Peter McGee.
The following were also presented with trophies and medals.
Connacht Senior Softball Singles
Champion; Mr. Eamon Connolly.
Connacht Minor Hardball Doubles champions: Martin Kelly and Joe Reid
Mayo Intermediate Softball Doubles champions: Mickie Kelly and Peadar McGee.
Mayo Juvenile Doubles champions: Michael Reid and Christopher Loftus.
Camogie:
Mr. P.J. Hennelly, Chairman of Mayo Camogie Board presented the Co. Camogie Championship cup to Miss Margaret Kelly, team captain, and said no team deserved to win the trophy more than Newport. The team members were presented with medals.
Football:
Mr. Teddy McHale, Westport, chairman of West Mayo G.A.A. Board, said it was a great privilege and honour for him to present the Cusack Cup to Mickie Walshe captain of the Burrishoole team.
With a bit of luck, they could easily have taken the Co. trophy for they were the best team to have left the West Mayo division in the past decade. With that little bit of luck next year could see them capture the County trophy.
The Attendance
Present at the function were (Newport addresses unless otherwise stated): Fr. Frank McManamon; Fr. R. Horan, C.C.; Fr. M. Comer, C.C.; Dr. M. Kennedy, M.O. and Mrs. Kennedy; Dr. J. Forbes, Mulranny; Denis Gallagher, N.T., Currane; Padraic Joyce, N.T., Achill; Teddy McHale, Westport; P.J. Hennelly, Manulla; Vera and Jimmy McDonnell, do.; Mr. and Mrs. Seamus Daly, Mulranny; Mr. and Mrs. Larry McGovern and Kathleen McGovern. Mr. and Mrs. Eamon Connolly; Mr. and Mrs. Mickie Kelly; Mr. and Mrs. Frank Nealis; Mr. and Mrs. Bob Loftus; Mr. and Mrs. Ml. Walsh, Carrowbeg; Mr. and Mrs. Gerard Bracken; Mr. and Mrs. Eddie Kilroy; Mr. and Mrs. Charlie McGee; Mr. and Mrs. Seamus Kelly; Mr. and Mrs. Bill Chambers (Brannen); Mr. and Mrs. Peadar Kilroy; Mr. and Mrs. Eddie Fitzgerald; Mr. and Mrs. John J. McGovern; Mr. and Mrs. Michael Chambers; Mr. and Mrs. Mickie Walsh.
Sean Kelly, Tiernaur; Mr. and Mrs. Vincent McNeela; Pat Cannon, Tiernaur; Paddy Monaghan; Tony Nixon and Miss Mary Nixon, N.T.; Brendan Ruttledge and Miss Catherine Callaghan; Liam Walsh and Miss Maureen Browne; Jackie Rumley, Manulla and Miss M. Nolan; Padraic Browne and Miss T. Neary; Tony Loftus; Peadar McGee; Bernie McHale, Westport; Mick Fergus; Martin Codd, Mulranny; Gerry McNulty, N.T., Glenhest and Mr. M. McGlean, Lacken; P.J. Dever, Glenhest; Leonard Sheridan, B. Mus., Foxford; Seamus Browne and Miss Frankie Loftus.
Jack Bracken, B.E.; Sean Meenaghan, N.T.; Martin Moran, Derrada; Michael Monaghan; Miss Ena Flynn , N.T.; Miss Mar Ketterick; Noel Quinn and Miss Phil Connolly; Miss Josephine Maguire; Miss Kitty Kilcoyne; Miss Mary J. Geraghty; Miss Mary Kilroy; Paddy Kilker and Miss J. Hopkins.
Peter McGee; Willie McGee; Teresa and Angela McGee; Christie Loftus; Michael and Joe Reid; Martin Moran, Tiernaur and Miss Margaret Geraghty; Willie McHale, Tiernaur and Miss Margaret Kelly; Miss Nora Conway; Miss Rose Conway; Mr. C. Mulchrone and Miss Margaret Needham. Michael Kilroy and Miss Bridgie Kilroy; Miss Kathleen Monaghan; Neil O Donnell, Tiernaur and Miss Catherine Geraghty; Miss Bridie Kilroy, N.T.; Misses Bernie and Evelyn Carter; Miss Breeda Mullarkey, N.T.; Miss Kathleen Chambers.
Michael Osbourne and Miss Miriam Saunders; Miss Mary Murray, N.T.; Christy Ginnelly, Glenisland and Miss Margaret McGovern; Martin Curry, Westport; Brendan Gannon and Miss Margaret O Donnell; Pat Gannon; Michael O Connell, Ballyhaunis; Sean Kelly, Kilmeena; Bertie Carmichael; Seamus Kelly; Vinnie Kelly; Patsy Callaghan.

---